News from FA.N.T.A.S.I.A. project
Developing an entrepreneurial mindset to primary school students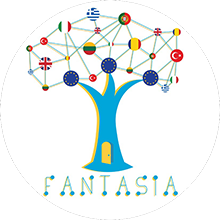 FANTASIA project aims to instill an entrepreneurial mindset to primary school students by developing an innovative pedagogical approach using software and fairytale scenarios.
FA.N.T.A.S.I.A. project aims to foster the entrepreneurial mindset and knowledge of transversal and entrepreneurial skills of primary students, aged 6-9, through an innovative software based on fairy tales. Another primary goal of the project is to foster the training of teachers in the assessment of transversal and entrepreneurship skills of primary students through a user manual and training course for teachers/coaches, also available in eLearning mode.
The following outputs will be developed during projects lifetime:
IO1 –FANTASIA Software
The FANTASIA software will be developed in beneficial and engaging format for younger children and therefore will represent a good platform for learning and promoting entrepreneurship mindsets.
IO2- FANTASIA User Manual for teachers and coaches and e-Learning courses
The training course will be targeted to teachers and coaches who will have to deliver the software and assess the transversal/entrepreneurial skills developed by the pupils.
IO3- Impact study of the FA.N.T.A.S.I.A. Software
A compendium will be created with all the learning outcomes and feedbacks recorded and reported to be included in the Impact Study. The Impact study aims to present an analysis of the impact of the use of the FANTASIA software, carried out on three targets: teachers of the classes involved in the pilot test, students who used the software and their respective families.
Currently, partners are working on the development of fairytale scenarios and the platform that is going to be used for facilitating the learning activities for children.
The first training event of the project took place in Athens, 27-30 January 2020, and it was organized by Academy of Entrepreneurship in collaboration with the The Home of Psycological Ideas, a partner from Lithuania.
Nearly 30 teachers from UK, Italy, Portugal, Lithuania, Romania, Greece and Turkey were trained on the 15 skills of EnteComp Framework, as well as, on didactic approaches on how to transfer their knowledge and teach soft and transversal skills to primary school students through fairytales.
Stay tuned for more info!