Courses for Jobseekers and SMEs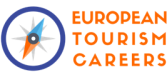 The European Tourism Careers EU project provides courses for Jobseekers and SMEs.
With a special focus on unemployed youth, courses for jobseekers shall be suitable for those who are attracted to a career, apprenticeship and traineeship position in the tourism sector, taking advantage of differentiated job opportunities at European level.
Courses for employers, tourism businesses and SMEs shall empower them of more capabilities to respond to the needs and expectations of demanding tourists, being aware of the main drivers and operations of tourism SMEs.
Visit our Training Platform