BECBA – Boosting Employability through Circularity of Bio-waste in Rural areas
Project Number: 101093619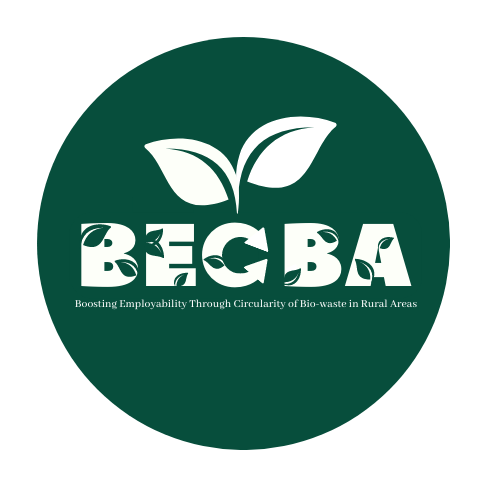 Partnership
Objectives
BECBA aims to empower and engage young people in agro-entrepreneurship actions that involve transforming bio-waste into valuable bio-products through innovative circular business models.
The project addresses two major issues related to rural areas: unemployment of young people and high amounts of segregated and mixed bio-waste that are not properly managed.
To achieve its objectives, the project focuses on developing the capacities of youth workers in recovering valuable nutrients from bio-waste and adapting them for reuse in agriculture. This approach is an integral part of the New Circular Economy Action Plan and will help shift agriculture away from its current linear model.
The project has three main goals:
Empower youth workers to become circular economy coaches and support rural youth in adopting circular conversion techniques and methods towards bio-waste streams generated from agriculture in rural areas.
Engage rural youths to develop knowledge, skills and competences in CE and green entrepreneurship to start pilot actions in conversion of growing agricultural bio-waste and by-products into eco-efficient bio-based products viable for setting up green businesses.
Design a Virtual Incubator for rural youth start-up development, integrating the training path of the pilot actions with didactic resources for viral training based on new circular business models and marketing concepts for cross-sectorial valorisation of agricultural by-products.
Target groups
Youth Workers
Recently graduated students in agriculture, environment, and other related fields (aged 25+)
NEET youths coming from rural areas (aged 18+) interested in participating in bio-circular development programs
Circular coaches
Relevant stakeholders (policymakers, representatives of government institutions, research and development entities, businesses, NGOs and CSOs)
Project Results
Training Format (Modules)
'Agricultural waste management in a circular economy' Manual
Virtual Incubator