Agro-Circularity Pioneers Program
International Training Course in Vienna!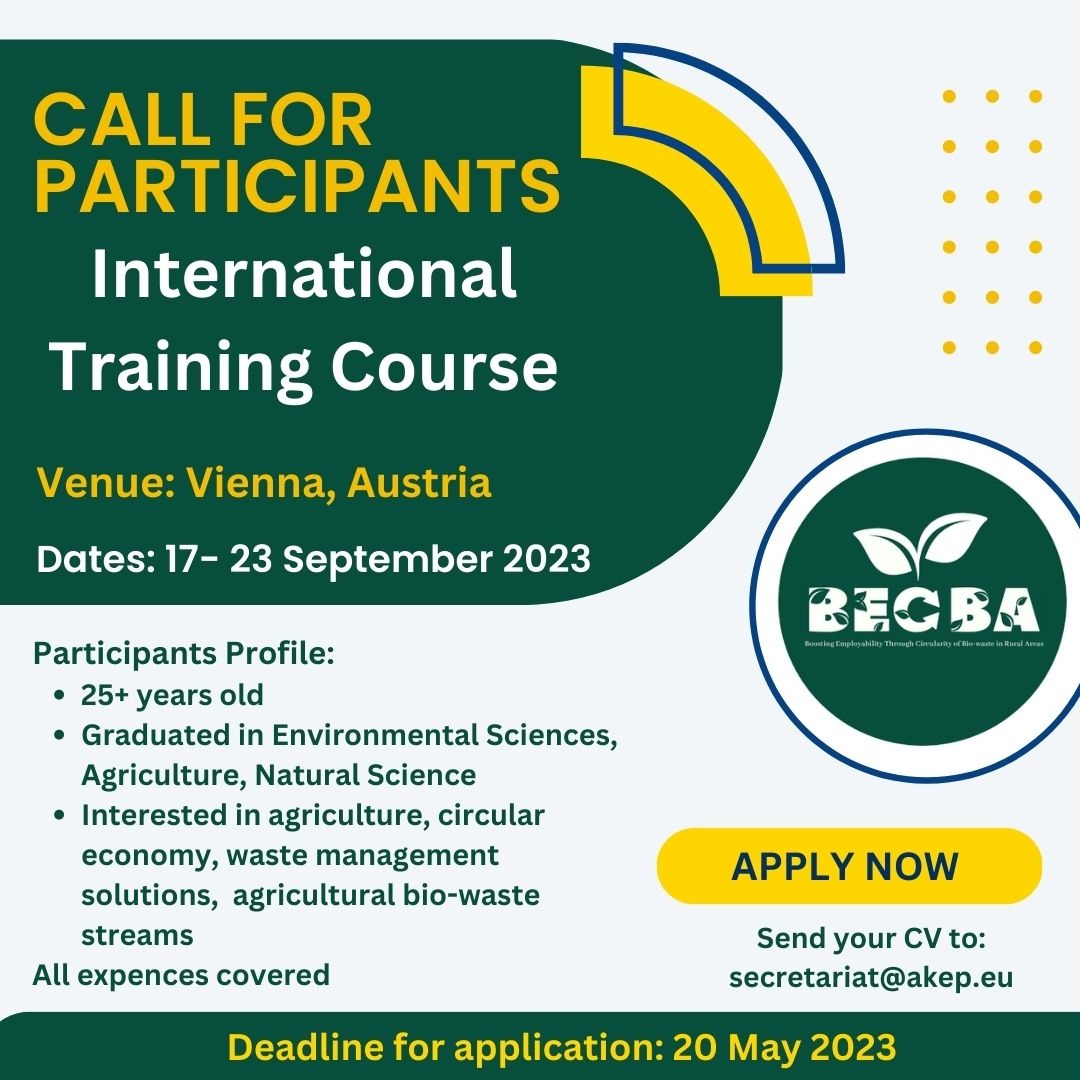 The Academy of Entrepreneurship is looking for 4 motivated participants (Pioneers) to join an Agro-Circularity Pioneers Program that will take place on September 17-23 (travel days included) in Vienna.
The training will be implemented in the context of the EU project BECBA (Boosting Employability through Circularity of Bio-waste in Rural areas) that aims to empower and engage young people in agro-entrepreneurship actions that involve transforming bio-waste into valuable bio-products through innovative circular business models.
During the 5-days training program, 20 youth workers from Kosovo, Greece, Austria and Albania will have the chance to:
GET INSPIRED: Field visits to showcase best practices (circular start-up, farmer and start-up collaboration)
GET KNOWLEDGEABLE: Circular thinking, types of circular start-ups, circularity strategies and circular business model innovations (& best practice examples), circular economy and more specifically agricultural waste management, design thinking lecture: learn the steps of the design thinking process, (international) Laws & regulations: waste management and circular economy, how to measure your impact, how to prevent Green / Circular Washing, access to Finance: learn about the different financing opportunities for circular start-ups and how to access them, pitch training
GET ACTIVE (active workshops working towards a start-up idea): Map your region, identify waste-streams (hunt the waste), idea generation (following circular design thinking), Business Modeling: build a circular business model (CBM) or sustainable business model (SBM) around your idea, Pitch Session: Share your idea with the group and show-off your newly acquired pitch skills,  Workshop: boost your impact! Let's determine how you will guide 5 young agro-entrepreneurs on their journey in your region and teach them what you learned! A brainstorming session will function as a stepping stone towards several action plans for each region.
At the end of the training, at least 10 action plans will be prepared to support the rural youths during the local activity phase of the project.
The youth workers that will participate in the Training Course will be the coaches leading the local activities in Greece.
Profile of participants
We are looking for people with the following prerequisites:
Age: 25+ years old
Residence: a rural area of Greece
Academic background: graduate or student in a relevant Bachelor's or Master's degree (Environmental Sciences, Agriculture, or related fields such as environmental engineering, etc.)
Interest in agro-entrepreneurship actions on transforming bio-waste into valuable bio-products through innovative circular business models
Want to gain an intercultural experience while working with peers from other EU countries and gain practical knowledge on circular economy, and on a linear agricultural bio-waste management system in the direction of circularity, re-production and recycling of waste into new useful products
Ability to stay in Vienna from the 17th to the 23th of September (Accommodation and travel costs will be provided for)
Detailed knowledge of circularity is NOT required although a keen interest is clearly desirable!
 Benefits from the training
Being part of a growing community of young, aspiring Circular Agro-Entrepreneurs and Circular Economy experts within Austria, Greece, Kosovo and Albania!
Being equipped with the right tools to develop yourself further as a Circular Economy expert
Become a pioneer of the BECBA project and a coach to youth entrepreneurs offline and via an online incubator system
All expenses are covered by the Erasmus+ programme upon submission of all necessary documents (boarding passes, tickets & invoices).
Are you keen on joining this experience?
Then to express your interest, complete the form below by May 20, 2023!
Shortlisted candidates will be contacted shortly after the application deadline.
Please feel free to contact us at secretariat@akep.eu or at 2103313690