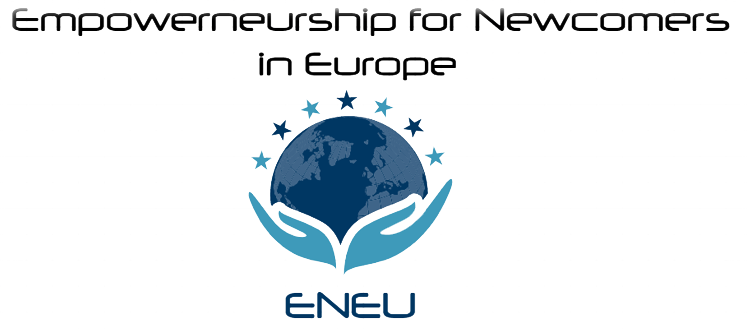 ENEU –  Empowerneurship for Newcomers in Europe aims at making self-employment a viable option for migrants and displaced people in transition in Europe and also for those who wish to return to their country of origin. More specifically:
General effect: Increasing learning demand among both educators and migrants through effective outreach, guidance, and motivation strategies.
Direct effect: Extending and developing the competencies of educators and other personnel who support adult learners. They will learn the required skills to support the migrants and displaced people through their journey of becoming entrepreneurs and self-sustained.
Ripple effect: Empowering and skilling up the migrants and the displaced people themselves towards becoming the sources of entrepreneurship training for others in their communities.
This will be achieved by training the trainers in order to use the entrepreneurial tools and modules developed by the partners. The learning process will be developed by introducing and implementing a new methodology: @Home in Transition. The use of digital devices and also face-to-face training/interaction with a trainer/mentor (in person or digital) will complete the objectives to be achieved.